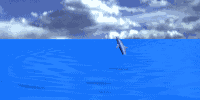 Sonar fishfinder
Scans Forward Horizontally Like an Underwater Radar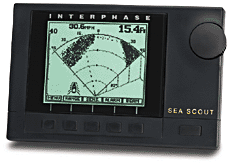 Sonar fishfinder Shown with full screen forward scan, notice large school of fish approximately 800 feet ahead and to left of vessel; Available in traditional gray case, shown with optional black case

The Sonar fishfinder is a revolutionary forward scanning fish finding device. Whether looking for suspended walleye, mooching for salmon or trying to find schools of bait, the Sonar fishfinder will show you what lies ahead. With a single transducer, the Sonar fishfinder scans a moving beam over a 90 degree arc back and forth across the bow of the boat, like a searchlight, with forward ranges up to 1,200 feet, and simultaneously operates as a full-function downlooking fish finder. Serious sport fishermen can now scan the area in front of their boat and steer directly to suspended fish, schools of bait and other underwater targets.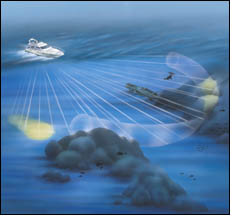 Easy to operate, the Sonar fishfinder allows you to observe areas in front of and directly underneath your boat simultaneously on a clear, split screen. Using the convenient front panel control, the Sonar fishfinder allows you to adjust both scan width and direction for optimum forward coverage, and a forward alarm can be easily set to warn of approaching fish, schools of bait or other submerged objects. Plus, the Sonar fishfinder's bottom looking mode provides a full set of conventional fish finder features.
---
Ease of Operation

The Sonar fishfinder offers numerous split screen modes easily accessed with only five buttons. The product is truly intuitive and user friendly. Any adjustments on screen can be modified simply by using the large Beam Control dial.

Choice of Views

Sonar fishfinder viewing can be forward, downward, or a combination of both. The scan can be reduced to a fraction of the 90 degree side to side sweep and then "steered" anywhere between 45 degrees port to 45 degrees starboard. Also available is a bottom chart mode and GPS/Loran track plotter (NMEA 0183).

Split Screens

Along with the traditional split screen and navigational split screen the Sonar fishfinder offers forward looking display data information or a combination of bottom, track, or data screens.

Forward Seeking View

The Sonar fishfinder offers recreational boaters a never before available scan of suspended targets up to 1,200' forward of the boat.

Value

Affordable forward scanning sonar for the recreational boater, the revolutionary Sonar fishfinder is packed with valuable depth sounder features and Loran/GPS ready plotting in addition to its unique solid state forward scanning features.

The Label

Commitment to state of the art technology, quality, reliability, and a dedication to customer satisfaction.
---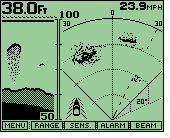 This is an actual screen capture of the Sonar fishfinder Forward Scanning Sonar from
---
You may choose to turn off the Auto-Range in order to see further than the actual bottom. This will enable the sonar pulse to bounce off the bottom and continue on. The targets ahead will reflect back to the unit and allow you to see a much greater distance ahead. Many users have experimented and found that the unit allows for a wide range of uses. The unit is not designed to provide forward "bottom" image, but will provide a bottom chart mode directly under the boat. Some limitations are observed in very shallow ranges.
This unique product "borrows" the latest in medical ultra-sound technology and provides a virtual "underwater radar" display. With its ability to look forward and scan from side to side, the Sonar fishfinder can identify suspended fish, obstructions, or even your cast lure. We have even tested the unit looking backward and it will show fish approaching your bait or chum line from the rear (it will not operate through cavitation).
Sonar fishfinder sweeps a 12 degree cone in a 90 degree arc from side to side. The sweep is angled downward from the transducer at 20 degrees. It also provides a standard downward looking sounder for a bottom view.